Free consultation and assessment

Cost effective and comfortable treatment
CLATUU 360 Freeze is natural, non-surgical body shaping with minimal discomfort and downtime.
CLATUU 360 Freeze is a non-invasive treatment designed to help you get rid of stubborn fat deposits without the discomfort and downtime of surgery. It utilises advanced cooling technology that allows you to return to your normal routine right after treatments.
There are two suction cups which means that you can have double the treatment of comparative devices at the same time.
Overall the procedure is relatively discomfort free and certainly has been getting great results for our patients.
---
Clatuu targets several stubborn fat areas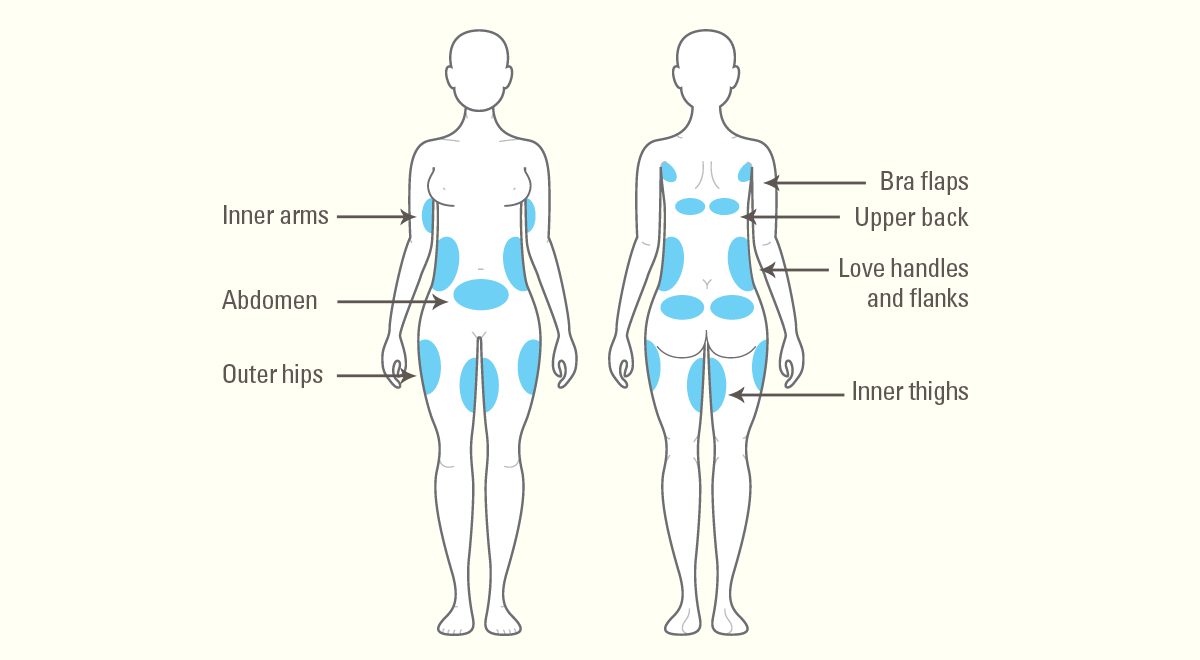 Before
After
Before
After
Before
After
Who is a CLATUU Candidate?
The ideal candidate for CLATUU is someone who is generally above ideal body weight. For most patients, this will be due to specific areas of unwanted fat that cannot be removed with diet or exercise.
CLATUU offers a solution to these issues and does it without any surgery or downtime.
CLATUU Freezing Fat Away is not a weight loss treatment nor does it replace the benefits of a proper diet and exercise. It does not treat obesity. It is recommended that patients who have had CLATUU treatments follow a healthy regimen of diet and exercise post treatment in order to maximise the treatment benefits.
What to expect 
When the applicator suction is applied it causes sensations of deep pulling, tugging and pinching. You may experience intense stinging, tingling, aching or cramping as the treatment begins. These sensations fade after the first few minutes.
You may initially feel cooling of the area progressing to numbness as you settle into the treatment. Intense cold, tingling, stinging can also be felt, but this again settles as your body tissues are cooled.
You need to stay in position for one hour once the treatment cycle begins, so if you need to go to the toilet please do so before treatment starts.
After the cup is removed the treated area will look or feel stiff, there could be transient blanching (whiteness) of the skin and/ or intense red to purple colour as well as bruising, swelling or tenderness. There is also risk of a small suction blister. These changes last up to several hours after the applicator is removed.
Immediately after treatment your Cosmetic Nurse will massage the semi frozen area of fat as this has been shown to improve treatment outcome. This is mostly very tolerable but at times may feel uncomfortable, painful or odd.
In the days following treatment you may feel like the area is bruised and aching. This aching as well as redness, bruising, swelling, tenderness, aching, itching, skin sensitivity and tingling can last one to two weeks. The skin may feel numb; this decrease in sensation can last for several weeks but resolves slowly.
1 in 20 individuals may experience strong cramping or muscle spasm or a shooting pain that occurs up to 2 weeks after treatment. Generally no pain relief is required, but analgesia such as Panadol/ Panadeine can be taken.If pain persists please contact us on 02 9262 7774 or email nurses@urepublic.com.au
You may start to see changes as early as three weeks after CLATUU 360 Freeze but the optimum results occur after 2–3 months. Your body continues to remove the injured fat cells from your body for up to four months after your procedure.
After 1–2 months, you may decide if you require additional treatments to reach your desired outcome.
Maintain a healthy diet in in the weeks prior to treatment to maximise your results. It's important to resume some form of exercise within 24–48 hours. For example, walking or riding an exercise bike, for approximately 30 minutes a day.
Download the "CLATUU 360 Freeze" article