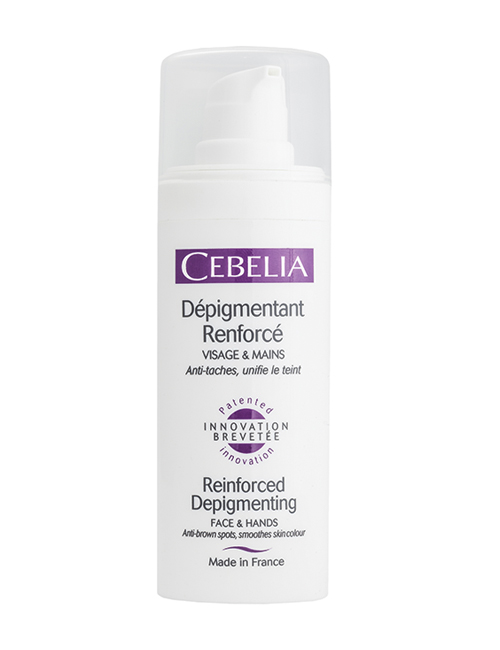 Cebelia – Reinforced Depigmenting 30mL
Our new treatment for a brown-spot-free complexion
Anti-brown spot for face and hands, use on its own or to supplement laser or chemical peeling treatment.
Note: To obtain results, you must apply it for two months and protect yourself from the sun.
Developed through French research (INSERM-ANJOU patent), the originality of the formula is based on an unexpected association: A complex of depigmenting agents (patented Pekaline agent associated with vitamins PP and C), which acts on three key levels of melanin action, placing it on standby and reducing spotting and glycolic acid, which promotes the elimination of existing blemishes and accelerates the action of the complex of agents.
Properties
Reinforced Depigmenting fights all kind of brown spots: age spots, pregnancy mask, medicinal scarring or light-blemishes. Brown spots disappear, skin tone lightens.
Instructions for use
Apply once or twice daily (avoid contact with eyes). Can be used by itself or in combination with other dermatological treatments. You may feel pins and needles when you start the treatment, in which case use it only every second day. If exposed to sun, you must use a high-protection sun cream.
Aesthetic Medical Practice
Doctors use it pre- and post-peeling, post-nitrogen and post-laser intervention to prolong the effects of the procedure, or following hydroquinone medical treatment.